Thursday, January 26, 2006
Thursday, January 19, 2006
Mayaman Street, Up Village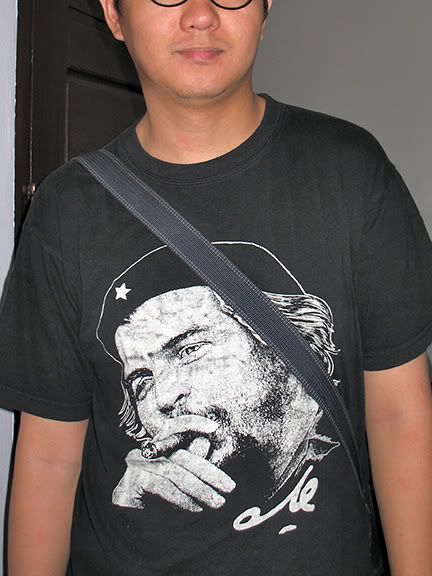 A
friend onced asked me if I got my shirt from the UP Shopping center. I shyly said no, so he asked me where I got it since he hasn't seen the design yet.
"Uhmm, Cuba?"
He gave me this flabergasted look and said "Ah, okay. Kaya pala (So that's why)."
Seriously though, I didn't go to Cuba, but the shirt was a gift from someone who went there.
At present, there is only one instance where I took a picture of Che while wearing this shirt.
Gotta work on that double chin.
Saturday, January 14, 2006
Guadalupe-Tulay MRT Station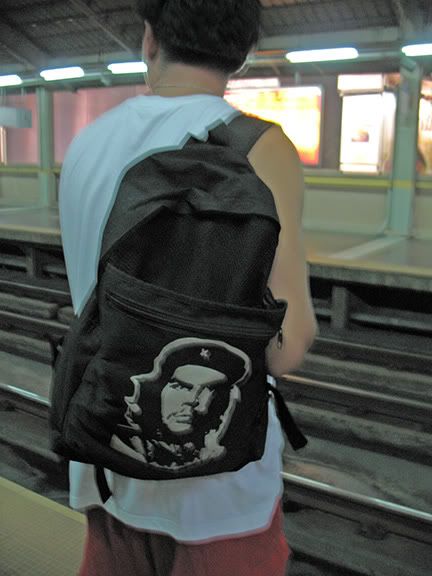 M
y first Che picture for this project. Jo and I were waiting for our MRT ride at the Guadalupe-Tulay station when I saw this dude. He was waiting on another door so I did a quick pass and asked him if I can take a picture of his bag. It seemed he came from a work out. I was going to say a badminton game, but he didn't have any racket slung over his shoulders, or tucked inside his bag with the handle sticking out making him look like a ninja turtle ( I was teased by my high school classmates when I once went to school with bamboo sticks protruding on my backpack. It was meant for our T.H.E. christmas lantern project. I guess I'm still finding a sense of closure after all these years).